---
I wish you all a very happy & safe new year! ❤
I hope your holidays were good to you 🙂
---
---
December Wrap Up
---
This first part is my December wrap up. It's small and I didn't want to dedicate a whole post to it. The first three stories I read were from Tor.. They're short stories that you can read on their website Tor.com
St. Valentine, St. Abigail, St. Brigid by C.L. Polk
"Magic comes with a price" This is a hard hitting very short story. Our main character lives a shelter life and is lonely and just wants to befriend Lucille the only other person in her school who is her academic equal. However as they grow close a terrible dark secret is exposed. I thought this was too short. I would have loved for this to be a full length standalone novel. Love the magic of the bees.
Exile's End by Carolyn Ives Gilman
This science fiction story is an examination of artifact repatriation and cultural appropriation. This is a very big and much needed topic that can't be completely achieved in such a small structure however it does convey the unease that should come from objects and artifacts being on display in another country or place that doesn't have the same connection to the piece.
The Little Witch by M. Rickert
This has such an eerie undercurrent running through it. The illustration will make you believe this is a fun lighthearted tale but it's not. This in fact encompasses the story perfectly. All is not what it seems, is what i mean.
An Unexpected Peril by Deanna Raybourn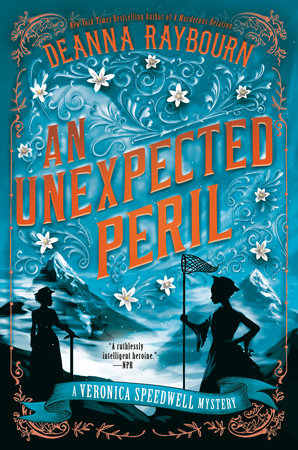 This was an ARC
I'll review it closer to it's release on March 2, 2021
This is the Sixth book in the Veronica Speedwell Mystery series
The Nutcracker & the Mouse King by E.T.A. Hoffman
I watched this a ton as a kid and I did have a copy of this story back then too but it's been lost to time. So, this was an overdue re-read.
And all I have to say is watch the movie.
---
Now for why we're really here:
As for my plans this year I'm still keeping goals relatively small for my stress and sanity.
I like to make small goals otherwise I won't do it. Reading to me is a stress reliever. However, I do want to stretch out of my comfort zone every now and then. Last year though I didn't for good reasons and I'm not going to beat myself up over it. But now I'm feeling that itch to try something new, we'll see how this goes lol
For me this means reading the rest of the books I've seen the movies of but haven't read the original. Unfortunately, with this 'goal' its more of finding the right mood lol I hate being a mood reader.
I always do the Alphabet Reading Challenge which is a great as its manageable yet difficult, hence the challenge LOL. I've accomplished this three years in a row but it's become increasingly more difficult for finding titles that start with Z.
I strive to read debut and new authors because that early support is so important. It's also important to me to finish the series I've started, I'm pretty good about this so long as it's a series that I LOVE. I notice that books/series that I'm only sort of interested in tend to fall to the back.
As far as blog goals go, I don't have many besides make content. Terrible, I know but I never expected anyone to actually subscribe and follow me. There's just so much great content out there that I'd be lucky to have one person read my stuff. All this to say THANK YOU to YOU who is reading this. I'm so happy you're here! I do hope its fun probably not insightful but hopefully it's a good time. 🙂
I eventually want to spruce this place up but until then it's just going to look like this lol
If you hadn't seen in my post Breaking News then you might not know that I'm making a Monthly Bingo board to help cull mine & your TBR mountain. Colorful Biblio Bingo is in full swing. It's been a lot of research going in but I hope its fun for everyone. Here is the board
All I ask is if you share this to pingback to my post Breaking News
---
As for my Store updates I'm temporarily on hiatus. Some unforeseen things have come up and I've had to hold off on launching my bookmarks and some new content as well. I'm hoping to have at least the bookmarks up by the first of February. When I do get those up I'll release a post detailing all the things 🙂
---
What kind of reading goals do you have or do you set goals?
I want to know 🙂
---
Thanks for reading 🙂
Connect & Support: